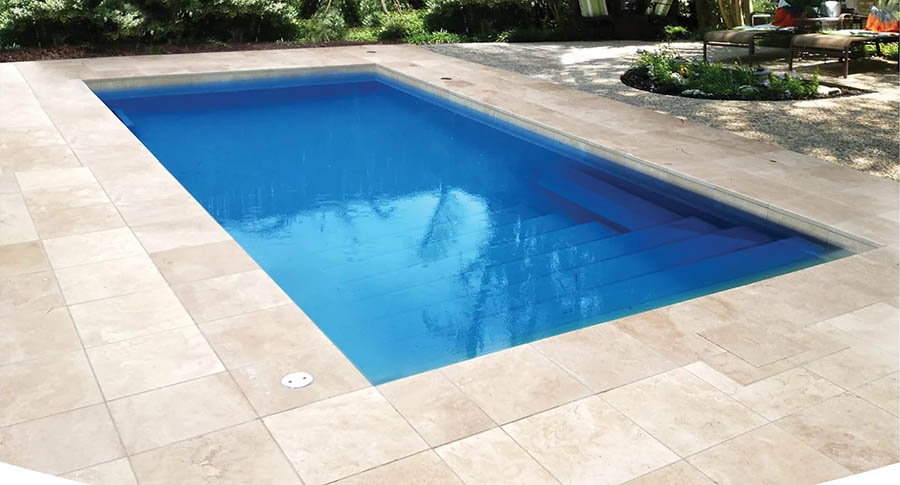 shoreline
Rectangle fiberglass pool designed to fit into smaller spaces. Custom full length steps are located in the shallow end for easy access to two side relaxing side wall benches.
Size & Specs:
12′ x 26′, Depth 4′6″, Gallons: 8,950
Shape: Rectangular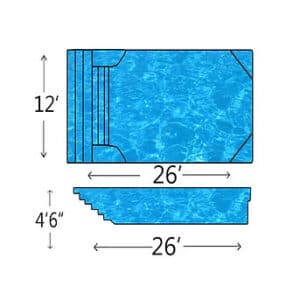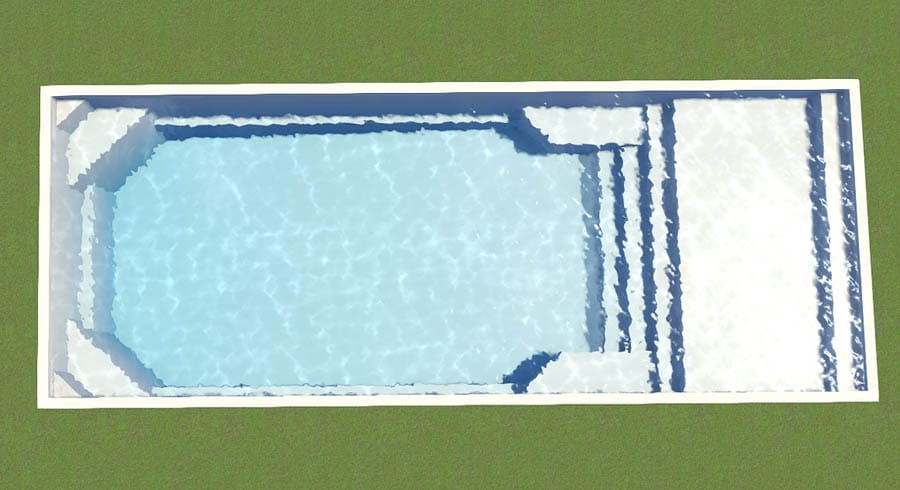 Charlevoix
Small, rectangle fiberglass pool perfectly designed for the tightest of spaces. Complete with a built in sun ledge tanning area.
Size & Specs:
12′ x 30′, Depth 1′3″ to 5′8″, Gallons: 7,665
Shape: Rectangular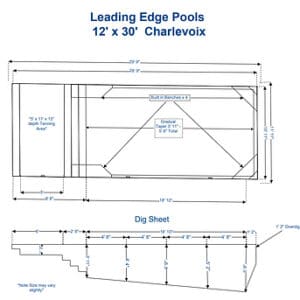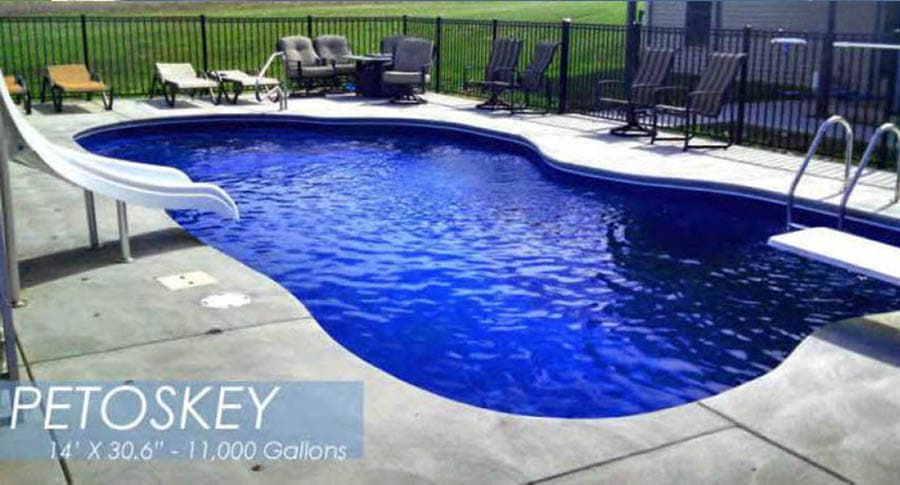 petoskey
This stunning, medium sized, freeform fiberglass pool has been engineered and designed with safety first with its textured floor and slip resistant wedding cake step design.
Size & Specs:
14′ x 30′6″, Depth 3'9″ to 5'8″, Gallons: 1,000
Shape: Freeform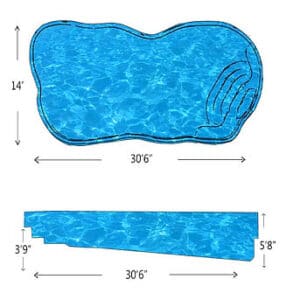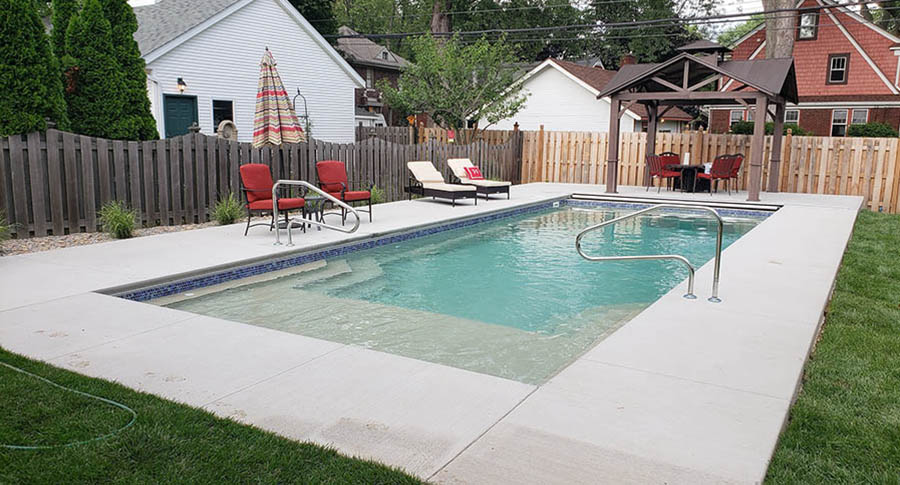 Grand Ledge
This spectacular rectangle pool is perfect for the entire family to enjoy. There is a large swimming area for enjoying a refreshing swim and a special area for children and sunbathers to relax and play in the safety of shallow water while lounging in your favorite beach chair.
Size & Specs:
15′ x 37′, Depth 3′4″ to 6′4″, Gallons: 15,500
Shape: Rectangular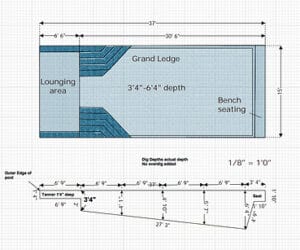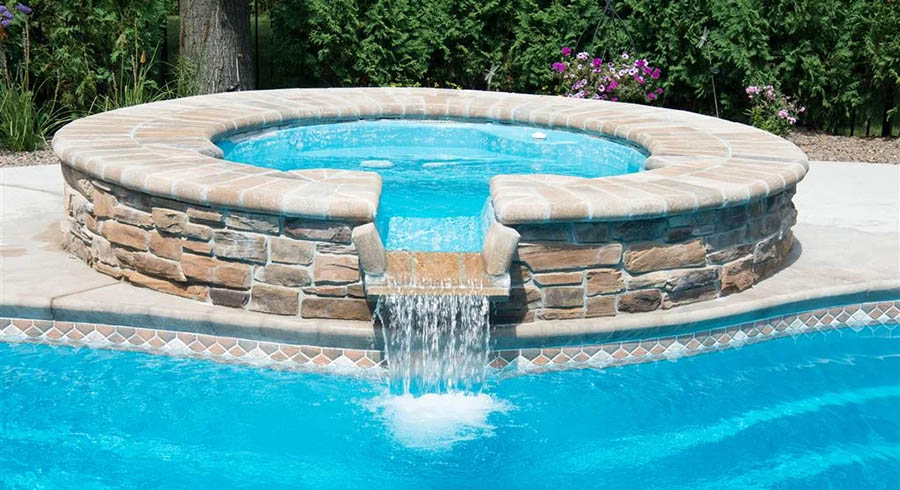 full moon spa
With its beauty, style & elegance the Full Moon Spa offers you the ability to truly relax in style.
Size & Specs:
7′4″, Depth 2'8″, Gallons: 350
Shape: Circular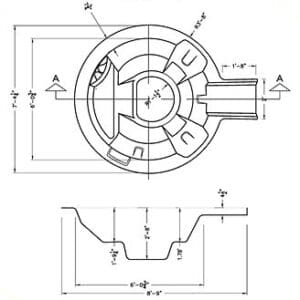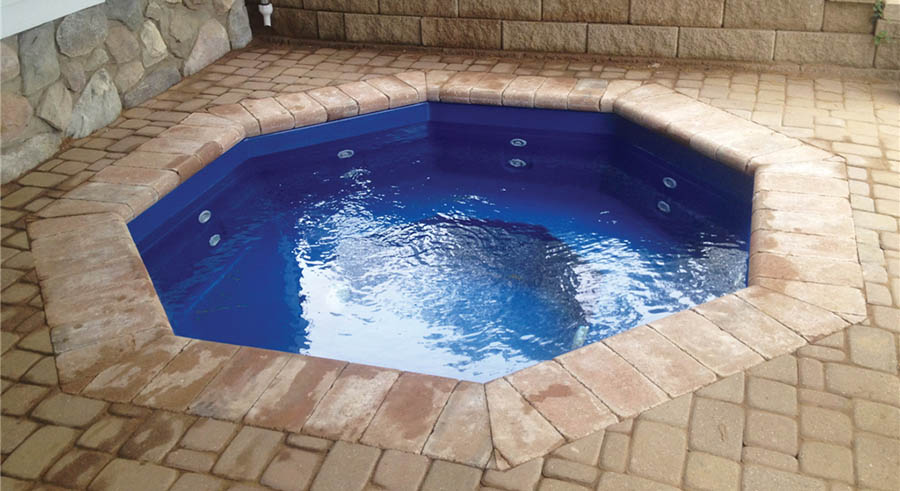 starlight spa
Take one look at the unique octagon-shape and stunning geometric design of the Starlight Spa and we're sure you'll be impressed. This luxurious spa offers simplicity and spaciousness, all wrapped up into one beautiful package.
Size & Specs:
7′9″  x 7′9″, Depth 3′3″, Gallons: 475
Shape: Octagon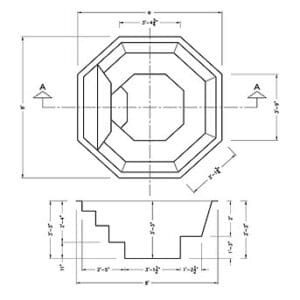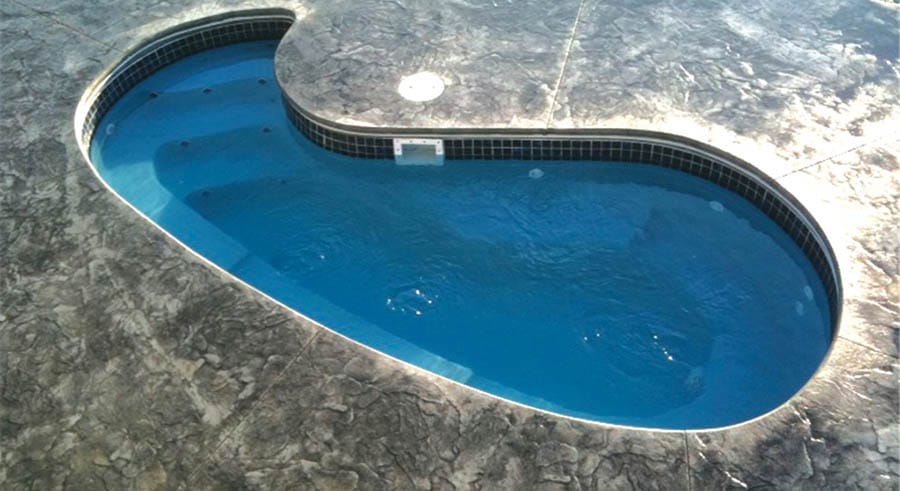 manitou spa
The Manitou Spa is a true show stopper and perfect addition to your Backyard. This absolutely breathtaking spa screams notice me and you will.
Size & Specs:
16′ x 38′, Depth 3′-6″ to 7′, Gallons: 1,000
Shape: Tear-drop shape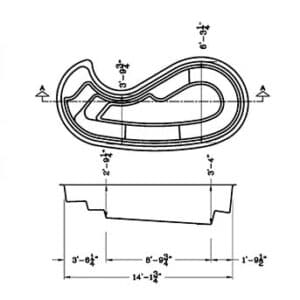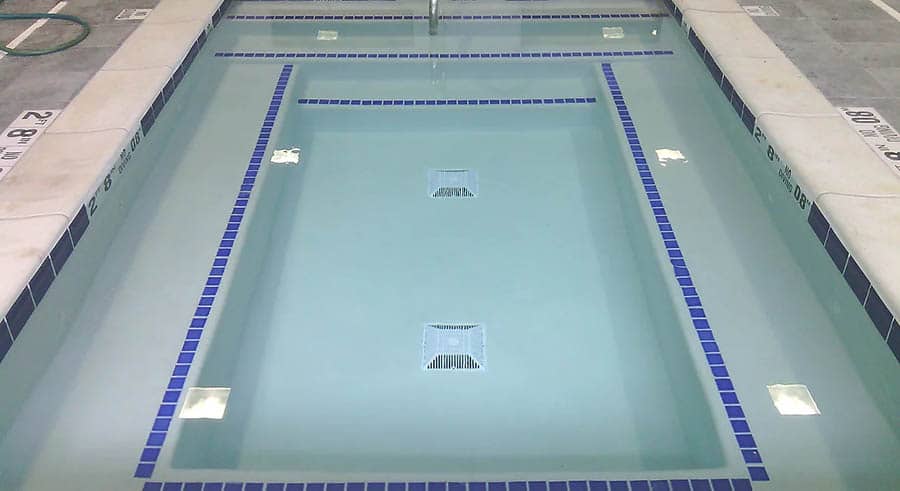 stargazer spa
Step into the luxurious Stargazer Spa and you'll feel like you've just stepped into your favorite tropical destination.
Size & Specs: 8′ x 12′, Depth 3′3″, Gallons: 2,160
Shape: Rectangular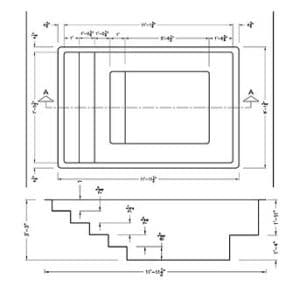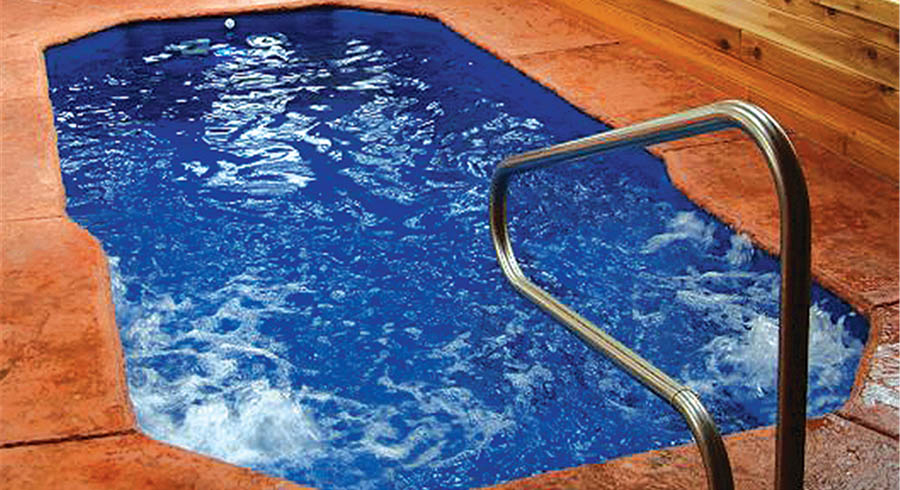 rejuvenator spa
Feel awake, renewed, refreshed and rejuvenated in the gorgeous Rejuvenator swim shaper. This beautiful fiber glass pool was designed, created, and built with one thing in mind… total body health, fitness, and well-being.
Size & Specs:
7′8″ x 17′, Depth 4′, Gallons: 3,360
Shape: Modern Freeform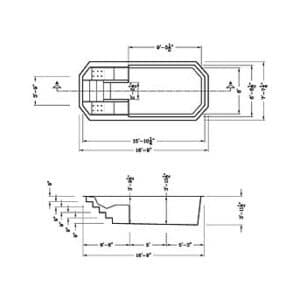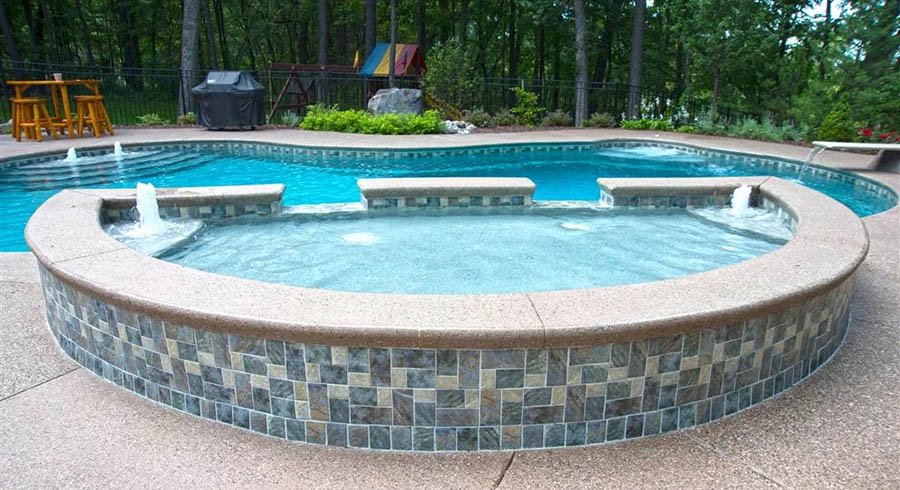 Bronzer
This eye-catching and attractive tanning ledge is sure to be the perfect addition to your backyard. With its curvaceous, free-form shape and its generous, yet modest, 14" depth, the Bronzer is as safe and fun as it is gorgeous.
Size & Specs:
4′2″  x 15'9″, Depth 1′2″, Gallons: 350
Shape: Freeform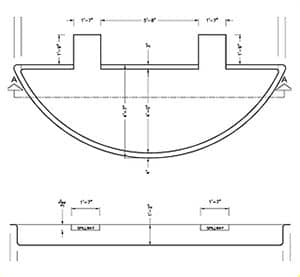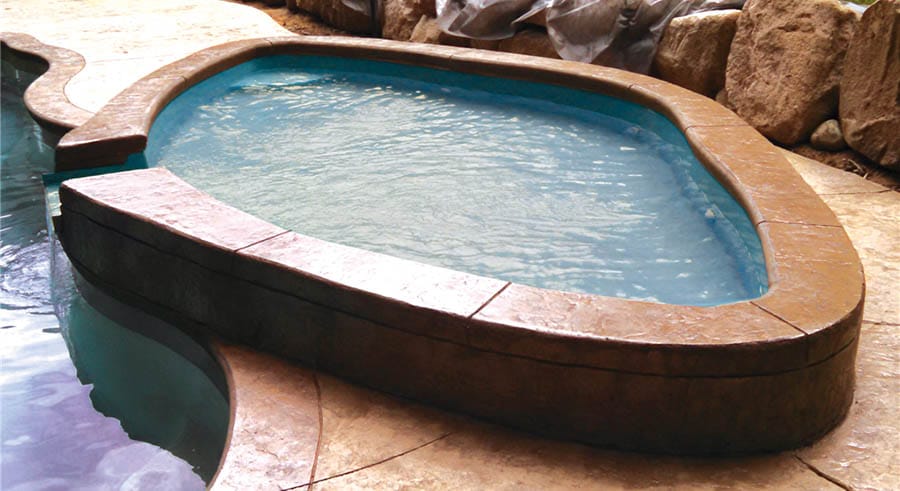 Relaxer
Enjoy hours of carefree relaxation with your family in the Relaxer's comfortable and spacious, dual built in seats.
Size: 
8′11″ x 16′10″, Depth 14″, Gallons: 650
Shape: Modern Freeform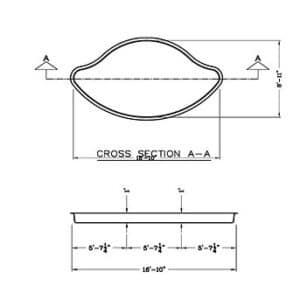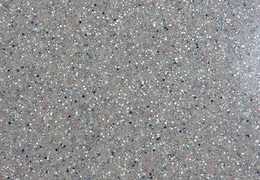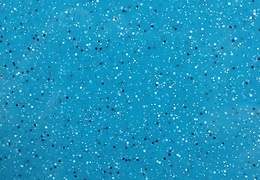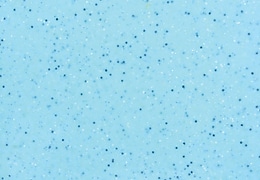 For a new pool build, please request a quote, we will visit your home (best done in your home so we can look at your yard, evaluate drainage, etc), discuss options and then come up with a quote!
The pool building process itself can take anywhere from 48 hours to several weeks or longer depending on the complexity and scope of your project.